Industry Outlook
The ICT industry stands as a trailblazer for innovative development for various business sectors, current and developing technologies, and driving productivity as well as sharpening the competitive edge. Despite the backdrop of global uncertainties, including inflation concerns, geopolitical tensions, the lingering aftermath of the pandemic, the industry's constant innovation and demand for digital transformation and global connectivity enables resilience and robustness amid uncertainty. With an estimated market value of $1.04 trillion as of 2023, the ICT market is poised for strong growth, projected at a CAGR of 8.38% over the next 5 years. This growth is expected to be driven by the continued and accelerated adoption of Automation, Digitization, Cyber Security, Data Analytics and Visualization, and the Cloud.
Global M&A transactions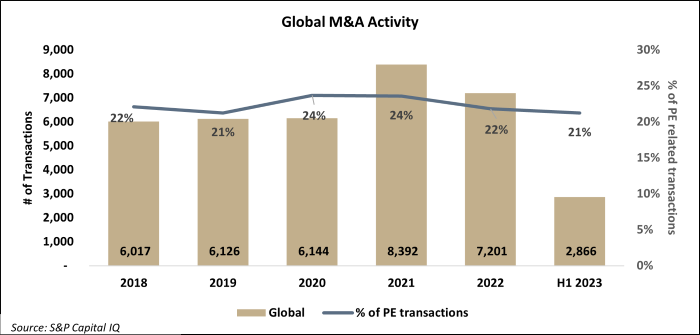 In reference to the graph of the recent publicly known global and regional M&A Activity within the ICT sector, over the course of five and a half years, there has been over 36 000 transactions in the ICT industry, with the level of M&A activity experiencing a notable deceleration in 2022 coming off the highs of 2021. This trend has persisted into the first half of 2023 with transaction activity declining 14% from the second half of 2022, and is 26% lower than in comparison to the first half of 2022. Over the course of 5 years, North America (The US and Canada) lead in the number of completed transactions accounting for 39% of total transactions, followed by Europe accounting for 37% and Asia-Pacific accounting for 19%.
Dominated by the Software and Services subsector, mainly in the Application software space, which represents on average 50% of all ICT transactions. This is attributed to the dependable, subscription-based business models inherent to software ventures, offering steady streams of recurring revenue and cash flow. Anticipations point toward continued software-focused deals dominating the technology M&A sphere in the latter half of 2023, mirroring the trend seen in the first half of the year. The IT Consulting and related services subsector follows as the second largest contributor towards ICT M&A activity representing on average 24% of total transactions where IT solution design, Cybersecurity, Data Analytics and Cloud computing continue to be the driving force behind this subsector.
From 2022, continuing into the first half of 2023 a total of 133 mega deals – transactions surpassing R10 billion—was observed, amounting to an aggregate transaction value of R7.24 trillion. In line with overall global activity, the number of mega deals in terms of both transaction volume and aggregate transaction value has decreased in 2022 from 2021. However, average transaction size has increased indicating that larger and fewer strategic or high value deals are driving the market.
North America followed by Europe continues to dominant the mega deal activity in the industry from a geographic aspect representing 47% and 27% respectively of total mega-deal transactions. Private equity involvement in deals continue to make up around 40% of mega deals in the industry, although experiencing a decline which reflects a nuanced change in investment strategies and risk appetite, it is also an indication of the importance of strategic buyers in driving M&A activity going forward.
Notable global M&A deals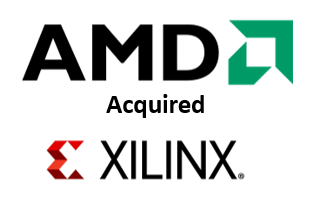 Advanced Micro Devices, Inc. acquisition of Xilinx, Inc. for R686.6 billion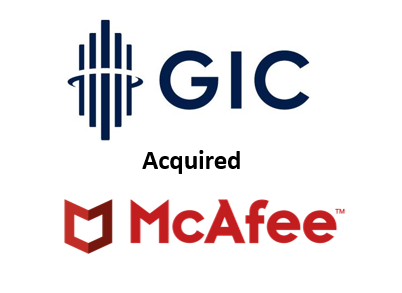 GIC lead Investor Group acquires McAfee Corp for R320.4 billion.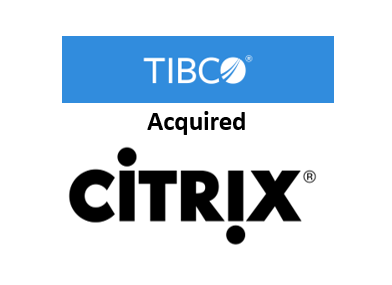 TIBCO Software Inc. acquisition of Citrix Systems, Inc. for R291.9 billion.
Microsoft's acquisition of Nuance Communications, Inc. for R264.1 billion
M&A activity in the African Landscape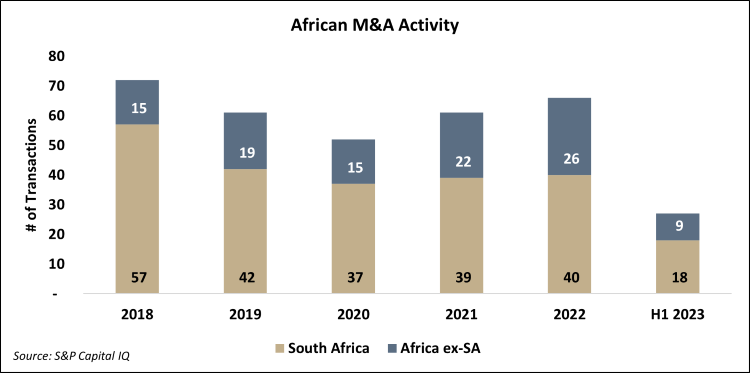 Dislocated from the overarching global trend, Africa's ICT industry has demonstrated an upward trajectory in M&A activity in 2022.  Although constituting a tiny fraction of overall Global ICT M&A activity, activity on the continent continues to grow as Africa shifts its focus toward digital transformation endeavors aimed at modernizing key sectors like government services, education, healthcare, and agriculture. South Africa stands out as a prominent player in the continent's M&A landscape, comprising upwards of 60% of total Africa M&A activity. The first half of 2022 saw 18 completed transactions, there was an increase of transaction volume of about 22 completed transactions in the second half of 2022. The first half of 2023 saw 18 completed transactions, marking a slight dip compared to the second half of 2022.
In line with the global trend, the Software and Services subsector (on average accounting for 39% of all African Transactions) leads the way in African M&A activity followed by Telecommunications and Networking then IT consulting and other related services (with both on average accounting for 24% of all African Transactions). With growing adoption of digitization in Africa it has become essential for businesses to adapt a fully integrated digital model into their operations. Competitors that can provide tailored solutions to customers will gain a strong competitive advantage, as generic off-the-shelf software might not fully satisfy a client's requirements. With the implementation of customized application software, providing ongoing training and support is critical to ensuring that employees are proficient in using the software effectively which helps to minimize disruptions and maximise benefits. This mirrors a pursuit of software-driven solutions and technology services in line with global trends.
Private equity involvement on the African continent has remained steady, accounting for approximately 12% with the majority of these private equity deals occurring in South Africa. According to the latest market reports, as of 2023, the South African ICT industry is valued at $15.8 billion and is expected to grow at a significant CAGR of over 5% to $22.2 billion over the forecasted period of 2023 – 2030.
Notable  African M&A transactions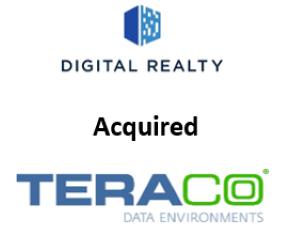 Digital Realty Trust, Inc. acquires Teraco Data Environments (Pty) Ltd, for R27.1 billion

Alegerian investment firm FNI acquisition of Optimum Teleco Algérie S.P.A for R11.4 Billion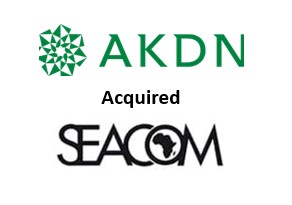 Investor group led by the Aga Khan fund acquired SEACOM Ltd for R9.2 Billion
Investor Group acquisition of Alviva Holdings Limited, for R3.9 billion
Trends driving M&A activity in the ICT industry
Looking for M&A guidance on acquiring a business or selling your business, contact us.