Industry Outlook
The Business Services industry is a dynamic and ever-evolving sector, influenced by economic shifts, technological innovations, and changing consumer preferences. From the resurgence following post-pandemic uncertainties to the strategic shifts and challenges that define the sector, one must delve deeper into the insights that guide M&A strategies and decisions in this industry. The business service industry comprises of a diverse array of business segments, all providing services to other companies. The multifaceted industry encompasses of professional services like research, consulting, data processing, outsourcing services, as well as business support services, workforce solutions, facilities management, and security services to name but a few,
Global M&A transactions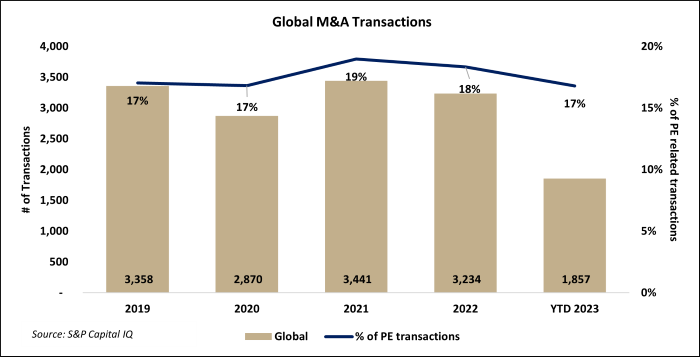 In reference to the above graph of the recent publicly known global and M&A Activity within the Business Services sector, the global M&A landscape in this industry has remained stable. Having recovered from the pandemic induced dip in 2020, transaction activity experienced a decline during the latter half of 2022, falling by 3.9% in comparison to the first half of 2022. This trend has persisted into the first half of 2023, with transaction activity decreasing by 6.8% from the second half of 2022 due to increasing cost of capital and macroeconomic volatility. As the prevailing macroeconomic conditions make concluding transactions more difficult, deal activity has been on the decline, as more marginal opportunities become unviable. However, aggregate deal value has increased by 16% between 2021 and 2022. Indicating that larger and fewer deals are driving M&A activity, as M&A transactors all concentrate on the most attractive opportunities pushing up valuations. Over the course of four and a half years, there has been more than 14,000 transactions in the business services industry, with North America (USA & Canada) leading in the number of completed transactions accounting for 46% of total transactions, followed by Europe accounting for 38% and Asia-Pacific accounting for 13%.
Heightened market uncertainties have prompted investors to refocus their attention on key metrics, prioritizing cash flow security and revenue predictability. Consequently, there is a growing interest in business service companies offering long term revenue visibility and sustained market growth prospects. In response to economic pressures, 2023 is expected to witness further consolidation, as larger players continue to acquire smaller firms as part of their growth strategies. Although the recessionary environment entails pricing pressure, investors have the ability to gain clearer insights into post-COVID asset profitability which can help mitigate some challenges that these companies face.
Comprising between 17% and 19% of M&A activity, Private Equity involvement has remained stable, highlighting the importance of strategic investors in driving M&A activity with the Business Services Sector. With outsourcing and process automation poised to drive M&A activity, leveraging cost-effective labour, enhanced workforce management and productivity improvements. In line with the corresponding increase aggreagte transaction value. The year 2022 marked a notable chapter characterised by the number of mega-deals, whose valuations exceed R10 billion. There was a total of 32 mega deals completed, amounting to R2.14 Trillion in comparison to 2021, which similarly saw 32 mega deals completed, however amounting to R1.01 Trillion. As of the year thus far for 2023, 14 mega deals were completed, amounting to R562.12 Billion. Countries such as the US, UK, South Korea, France and China are amongst the biggest players in the industry for 2022 which continued into 2023.
Notable global M&A transactions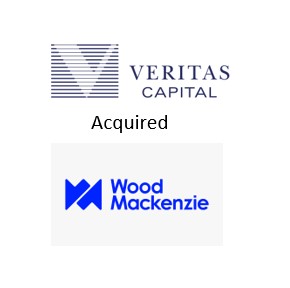 Veritas Capital Fund Management acquisition of Wood Mackenzie for R57 Billion.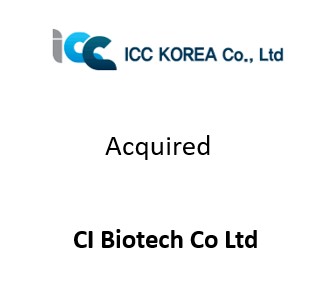 ICC Co Ltd's acquisition of CI Biotech Co Ltd or R126.1 Billion.
Ritchie Bros. Holdings Inc acquisition of IAA Inc for R140.9 Billion.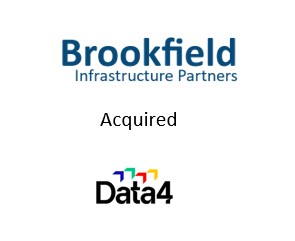 Brookfield Infrastructure Partners acquisition of Data4 Group for R44,4 Billion.
M&A activity in the African Landscape
Although comprising a fraction of overall global M&A activity within the Business Services Sector, Africa's global Business Services industry is poised for substantial expansion. Notably, South Africa stands as the dominant player in the continent's global business service landscape, holding the largest market share value. This prominence is attributed to factors such as proficiency in English, competitive labour costs, efficiency in back-office processing and customer administration service delivery. Furthermore, emerging global business service and business process outsourcing (BPO) sectors in countries such as Rwanda, Botswana, Morocco, Tunisia, Kenya, Ghana, Senegal, and Zimbabwe contribute to the overall diversity and growth of the African Business Service landscape. This positive outlook highlights significant M&A opportunities within the African and South African business services industry as companies aim to capitalize on the industry's rapid development.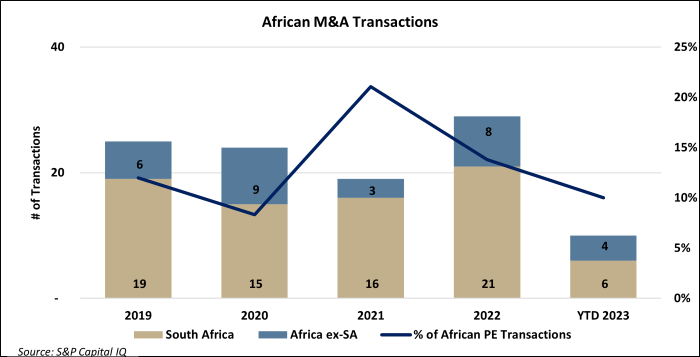 In reference to the above graph of the recent publicly known regional M&A Activity within the Business Services sector, African M&A activity has been dislocated from the overall global M&A activity trend, increasing by 53% and 31% for the Africa and South Africa respectively in 2022 compared to 2021. This can be attributed to foreign investment flocking to acquire assets on the continent, leverage local expertise and establish a foothold in the region given the growing demand for services and emerging market potential. The importance of Cross Border transactions in driving M&A activity on the continent cannot be understated, increasing significantly from 26% to over 60% in 2022 and into 2023. Indicating that the increased attractiveness of the African opportunity for international transactors.
Private equity involvement on the African continent has also been on the rise, accounting for 14% of all completed transactions during 2022 in Africa, with majority of those deals occurring in South Africa. Private equity involvement has continued this upward trajectory increasing by 3% for South Africa in 2023. The industry's fragmented structure and recurring revenue offers investors enticing opportunities to implement sector consolidation strategies with a relatively high probability of achieving success. Private equity involvement is expected to remain present in market over short to medium term.
M&A activity within the South African Business Services Industry is expected to maintain its momentum throughout the remainder of 2023. The industry has witnessed a significant increase in private equity investments and cross-border transactions. Furthermore, the announcement of six transactions in recent times adds to the optimistic outlook for the sector's M&A landscape. These developments collectively indicate a positive trajectory for M&A activity in the South African Business Services Industry and suggesting potential opportunities in the coming months.
Notable  African M&A transactions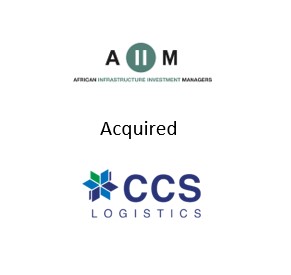 African Infrastructure Investment Managers (Pty) Ltd. acquired Commercial Cold Storage Group (Pty) Limited for R760 million
Clean-Seas, Inc. acquired 51% of Ecosynergie Group for R118.12 million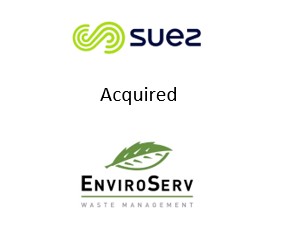 Investor group led by SUEZ S.A. , acquired Enviroserv Waste Management (Pty) Ltd. for R71.60 million.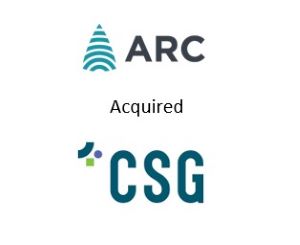 African Rainbow Capital Proprietary Limited (ARC) acquired 23.1% of CSG Holdings Limited for R 42.44 million
Trends expected to drive M&A in this industry
Looking for M&A guidance on acquiring a business or selling your business, contact us.