M&A activity among pharmaceutical and life sciences companies is expected to rebound in 2023 despite economic headwinds.
Sector Outlook
The global pharmaceutical sector experienced unprecedented volatility during recent years. As the outbreak of the Covid-19 pandemic sent the global economy into turmoil, it created many opportunities within pharmaceuticals as participants tried to capitalise on the increased demand for healthcare products. Price multiple ranges of completed transactions, within the sector widened, while the average Net Income valuation multiple increased by 19%. Although transaction activity has somewhat returned to normal since the peak of the pandemic in 2020, the effects thereof still influenced transactions during 2022, albeit to a lesser degree.
Rising interest rates and inflationary pressures experienced during 2022 put a damper on global M&A activity in the pharmaceutical sector with deal volumes falling nearly 30% year-over-year, recording 703 completed transactions for the year. Average deal values and valuation multiples took a 31% and 36% hit respectively, falling slightly below pre-pandemic levels.
Despite the slowdown of deal volumes during 2022, we expect deal activity to remain stable and somewhat improve going into 2023. Investors are likely to continue making acquisitions in this space as interest rate increases subside and markets become less volatile. Private Equity's ("PE") involvement is another positive factor to consider. The investor group accounted for approximately 25% of all completed transactions during 2022, slightly higher than the five-year average.
Global M&A transactions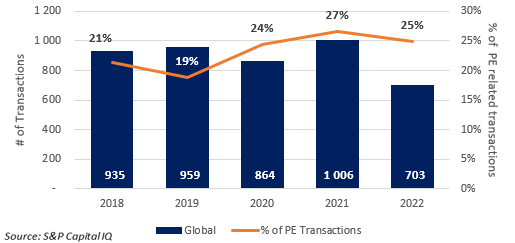 2022 saw a total of 29 mega-deals completed (deals valued at over R10 billion), amounting to over R1.2 trillion with the bulk of transactions occurring in the USA (16), the UK (3), and China (2).
Notable deals

Pfizer Inc's acquisition of Biohaven Pharma during October for $29.3 billion.
Pfizer Inc's acquisition of Global Blood Therapeutics during October for $5.4 billion.

Triton Private Equity's acquisition of Clinigen Group during April for R2 billion.
AstraZeneca's acquisition of TeneoTwo Inc during August for $1.3 billion.
M&A activity on the African continent focusing on South Africa
After a significant decline in deal volumes between 2018 and 2019, the sector has seen steady activity growth ever since. Contrary to global trends, African transaction activity improved in 2020 with the outbreak of the pandemic, and outperformed global activity during 2022. This was however largely driven by M&A activity growth in the South African market.
Notable South African transaction

Ascendis Health's disposal of Ascendis Pharma to Austell Pharma during October for R432 million, to improve Ascendis Health's balance sheet by reducing its debt.

RMB Corvest and Umoya Capital Partners' acquisition of Brunel Laboratoria during January, extending RMB Corvest's portfolio in the fast-growing healthcare sector.
Acino Pharma's acquisition of select brands from Aspen Pharmacare during March for R1.8 billion, strengthening Acino's footprint in South Africa by expanding their offering in the select therapeutic segments.
The outbreak of COVID-19 exposed the fragility of African healthcare systems and highlighted the need for countries to ensure a minimum level of healthcare security for product supplies. The pandemic revealed gaps in the provision of critical drugs and medicines which gave rise to countless problems as it raged on.
The African continent is heavily reliant on imports, with close to 70% of pharmaceutical products being imported. As a result, African governments are looking to develop their local pharmaceutical sectors to ensure supply security and make medicines more affordable, creating many opportunities.
At the same time, the African Development Bank is working to mobilise, $100 million annually to directly finance the development of the African pharmaceutical industry. The program is likely to incentivise pharmaceuticals manufacturers to expand into the continent. While private equity players and multinationals with a footprint in Africa are perfectly positioned to take advantage of this opportunity, we expect new participants to enter the market.
According to Fitch Solutions, the South African pharmaceutical market is expected to see strong growth which is supported by the growing presence of multinational companies. Industry players who don't have an existing footprint on the continent are expected to continue looking to South African companies for acquisitions and strategic partnerships to break into Africa.
Trends expected to drive M&A activity in the sector
As both global and South African inflation slows down and markets become less volatile, interest rate increases will likely become less severe in 2023, potentially even decreasing nearing the end of the year. As a result, we expect global M&A deal volumes and valuations to increase during 2023, resuming the industry's long-term upward trend, with South African deal volumes expected to follow suit.
Looking for M&A guidance on acquiring a business or selling your business, contact us.